Our Affiliate Program is designed to offer you a chance to join the growing community of CBD professionals by offering the Oregon Vitality line of premium CBD products to your family, friends, and followers.
Basics of our
CBD Affiliate Program
With a 25% commission and 90 day cookie, the Oregon Vitality Affiliate Program offers exceptional earning potential for its affiliates.
What is an affiliate? Our affiliate program is a performance based, refer-a-friend program but with unlimited earning potential. For every sale you refer to our site, you earn a percentage of the sale. There is no financial investment on your part—only opportunities.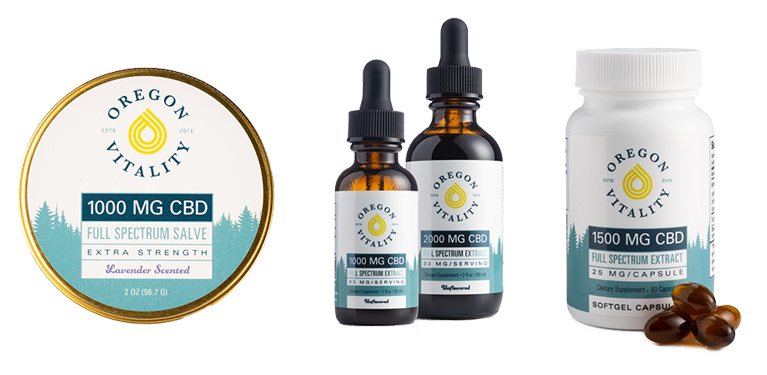 Oregon Vitality
How to Become an Affiliate?
STEP
1
Apply to our program and we will quickly review your application.
STEP
2
Receive a welcome email and log in to your affiliate account and customize you link.
STEP
3
Share your unique affiliate link and start earning commissions
AFFILIATE PROGRAM
Why Become an Affiliate Partner With Oregon Vitality?
— Oregon Vitality looks at the bigger picture of what Hemp and CBD can do for the world as a whole. While a top priority of ours is to provide high quality CBD products, we also look at the impact of each of our decisions on the environment.
— CBD products represent one of the fastest-growing sectors of the health and nutrition industry. New research and discoveries on their benefits are happening constantly. This presents a wide variety of opportunities for you to sell these products.
— Becoming an affiliate is completely free.
— Oregon Vitality offers one of the highest commission rates in the CBD industry: 25%. This means you'll earn a 25% commission on every product purchased by the people referred to Oregon Vitality via your affiliate link.
— Oregon Vitality offers 90 day cookies. If someone uses your link to visit our website, their computer will receive a tracking cookie. That means that if they purchase anything from the Oregon Vitality website within the first 90 days from their initial purchase, you will earn a 25% commission without having to do anything besides provide the link in the first place!
— We pay out our commissions once a month once you reach $50. Any income under $50 will roll over to the following month. 
— All affiliates can personally track their sales and commissions through their Affiliate login. This information is available whenever you want to see it.
— We publish all of our product's COAs on our website with the description of each product so you can feel confident in referring people to our products.
— Our affiliate program manager is ready and willing to help you with any questions you might have along the way.
Important Aspects to Consider When Evaluating CBD Affiliate Programs
Before you decide which CBD affiliate program to choose, you should evaluate the company itself and their values as well as the quality of their product. While high payouts are important, partnering with a company that matches well with your values and morals is essential. Here are a few aspects you can focus your evaluation on when trying to decide which affiliate program to join:
Are the CBD products that are being sold high-quality? It is ok to not be an expert when it comes to CBD and recommending products. But there is an easy way to make sure that the company you are wanting to promote has products that are worth recommending. Legitimate CBD companies will openly publish their COAs (Certificates of Analysis) which are detailed reports conducted by independent laboratories showing  what is actually in the product. These reports show THC and CBD levels as well as pesticide and heavy metal content.
Does the company match your values and morals? Consider where the company sources their ingredients. Do they use organic when they can? Do they do anything to give back to the environment? What is their packaging like? Do they try to stay local in their sourcing? Which of these matter to you and how much? Is the company diverse? What is the mission of the company? Once you know the answers to these questions you can look into the companies you are considering and find out if they match your top answers.
Accessibility of the company? When you are looking to partner with a company, we feel it is important to feel supported and like you are a part of the team. Look into the company to find out how their communication is. When you have a question, is there someone there to help you find the answer in a reasonable amount of time?
Jennifer Hooson
Affiliate Team Leader
Are You Ready to Join the Oregon Vitality
Affiliate CBD Program?
If you still have questions, please look at our list of FAQs about our affiliate program below.
If you have any other questions not included below, just email our Affiliate Team at affiliates@oregonvitality.com. We are here to help. 
AFFILIATE PROGRAM
Frequently Asked Questions
What type of people are you looking for as an Affiliate?
We want to partner with people who are looking to join us in our mission to help people, animals, and the environment using the many benefits of hemp. We also look for our affiliates to be positive ambassadors for the Oregon Vitality brand and values.
How do I sign up for the Oregon Vitality Affiliate Program?
You must first apply using our form on our website. Once you submit your application, it will be reviewed by our program manager. After it is reviewed and you are accepted you will be sent a welcome email with details on how to log in to your account.
Do I need to have a website/blog to participate as an affiliate?
While we feel that a website or blog will help our affiliates be successful, it is not required. If you do not have one of these, please use your social media handle (ex. personal Facebook URL or Instagram) on your application.
Can I be in a competitor's affiliate program as well as yours?
Of course! As an affiliate, you are not required to only recommend Oregon Vitality. We want you to be as successful as possible.
What is the age requirement?
We require all affiliates be 18 years of age.
What if I have more than one website that I want to promote products on?
Great! Go ahead and use the same affiliate link on each of your websites.
GETTING STARTED
Are You Ready to Join Our
Affiliate Program?
If you would like to join the growing community of CBD professionals by becoming an affiliate for Oregon Vitality, we'd love to hear from you. Just click the Apply Now button below to get started. If you have any questions about our affiliate program, we're here to help — just email us at affiliates@oregonvitality.com.